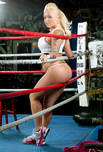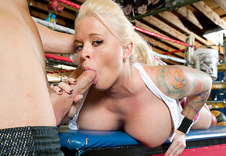 Released: June 02, 2010

Where: Boxing ring, Gym,
Category: Ass licking, Ass smacking, Ball licking, Big Ass, Big Dick, Big Tits, Blonde, Blow Job, Curvy, Deepthroating, Facial, Fake Tits, Hand Job, Piercings, Shaved, Tattoos, Uniform, Voluptuous,
"Love this scene need more"
-October 08, 2009
"Bring this chick back, she is fucking hot. You guys always have like one scene with the best chicks, WTF!?"
-September 09, 2009
"all you see is his cock. how is his cock any different than the other 50 dudes they use on this site? who worries about a dude in a POV scene? what a retarded comment."
-August 21, 2009
"Fucking great this chic is so hot. And to the guy who says he hates P.O.V. I see once a week that same shit if you dont like it dont watch it. That simple. I solved your problem, some of us like P.O.V."
-August 18, 2009
"Bodacious "sexy thick" body.Bring her back in a non-POV scene.I hate POV."
-August 18, 2009