December 2nd, 2009 Live with Lauren
Posted: Wednesday, December 2, 2009
Sunny Leone looking as sexy as ever.
Man oh man, today was too funny! Laura and I practiced yoga, we watched A LOT of HOT porn and we got to hang out with Sindee Jennings and Sunny Leone. Life doesn't really get much better.
I hope that you all watched Laura's failing attempt at yoga. She was falling all over herself. I swear, when she comes on the show with me it is PRICELESS!!! I love Laura for the simple fact that she has no shame what-so-ever.
Special Guests
Sindee Jennings is always a hoot. Sindee's laugh is just so infectious, I love it. Today we tried to see if it was possible for her to change the way she laughs. The show was so funny, people were writing in saying "omg, Lauren, I just spit my drink all over my computer".
Sindee is 23 years old and is extremely in touch with her sexuality. It really comes through in her scenes. Make sure to see all of her shine right here!
Sunny Leone once again graced us with her beautiful presence. I get so mesmerized when Sunny is here, it's tough to pay attention. Sunny is so down to earth and does not realize just how gorgeous she is. That is why all of us are here to remind her. If you would like to see Sunny in her first Naughty America scene, you are in luck.
Thank you for another fun and exciting day today!
I will see you tomorrow, we will get to know Mason Moore, Breanne Benson and Monique Alexander.
xoxox
Lauren
Here's a clip of Sunny Leone in Live Naughty Secretary.
More
Sunny Leone

porn videos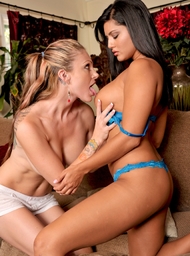 Jesse Capelli & Sunny Leone in My Dad's Hot Girlfriend
Sunny thinks she can teach Jessie a few things about pleasing a man and being sexy. Jessie thinks it's weird that her...
Who: Dad's Girlfriend, Family Friend
Where: Couch, Living room
Categories: Big Ass, Big Tits, Blonde, Blow Job, Brunette, Fake Tits, Girl on Girl, High Heels, Lesbian, Masturbation, Petite, Piercings, Shaved, Tattoos
Released: September 23, 2009
Watch
Sunny Leone

Live Archives
Watch
Sunny Leone

Live Interviews