Porn Star Interviews | Sex Stories & Articles about Naughty America | Sex Stories from Members
Audrey Bitoni Comes Short Of An Orgasm
By Mike Pettit / Monday, March 17, 2008
LOS ANGELES (TNA) – Audrey Bitoni's been a porn actress for more than a year now, but she admits that there's something about sex that she still has yet to discover: an orgasm.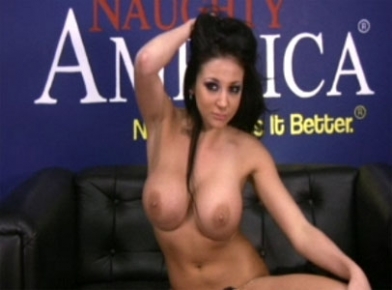 "I've never really had an orgasm," Bitoni admitted during a live chat with Naughty America on March 17. "Any orgasm you've seen me have, slap me on the wrist. It was a fake."
Sadly for Bitoni, she not only has never reached a "big O" while on the job, she says she's never had an orgasm in her entire life.
"Hopefully it will come one day," she said. "It's been 21 years so far and it hasn't happened yet."
Even a Hollywood actor wasn't able to get her rocks off. Bitoni claims to have bedded a "B-celebrity" – an actor from HBO's "Entourage" series – but says the experience wasn't exactly earth-shattering.
"Whatever -- he wasn't good," she said, withholding the dud's name.
Since Bitoni's apparently not getting satisfied, she may just have to increase her off-the-clock sexcapades. She gets paid to bang on camera about twice a week, but says in the past year she's only had sex outside of work a total of seven times.
Surprisingly, masturbation doesn't do the trick for bone-dry Bitoni, who admits that she holds about three diddle sessions each week just because it feels good.
"It's a little frustrating when you play with yourself and you don't get anywhere," she said. "But I still play."
Because Bitoni hasn't even "come close to fulfilling" her fantasy of having an orgasm, she says she'll whisk away the first man who makes her cum, and then keep him under lock and key.
"I'm going to hold on to him forever and lock him in a closet or something," she said.
So, Eliot Spitzer, watch out. Bitoni, who said she would have had no problem being the former New York governor's escort, speculates that a romp with Spitzer while he was in office possibly could have landed her the orgasm she's been in search of.
"Maybe he would have made me cum, because it's so naughty and we shouldn't have been doing it," she said.