Porn Star Interviews | Sex Stories & Articles about Naughty America | Sex Stories from Members
Bobbi Starr Is A Pre-Med Porn Celeb
By Lucy Bretts / Wednesday, May 7, 2008
LOS ANGELES (TNA) – Some gals get into the porn industry at 18 and act out fantasies such as being a naughty bookworm or a naughty office worker.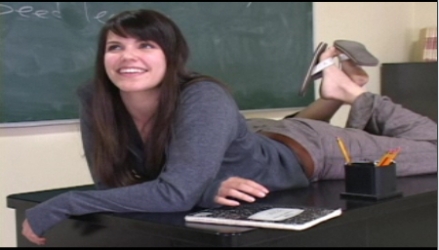 But not Bobbi Starr. When she attended college, she worked on campus and made sure to be as naughty as possible in as many places as she could.
"I was a music librarian during college and had sex in a lot of classrooms, practice rooms and my little office," she explained in a May 7 chat with Naughty America. "So all those scenes I have shot for Naughty office are based on something totally true."
When Starr graduated from San Jose State University in 2005 with a music degree, she may have left those days as a naughty librarian behind her, but not her naughty nature. She soon went into porn to supplement her career as a professional oboist.
"I pretty much played oboe until the moment I got into porn," she said. "I still practice all the time, it's a passion and not something I am going to let go."
Starr had such a good time in college mastering the oboe -- and, she jokes, the skin flute -- that she is considering getting another degree and is currently taking pre-med classes.
She says she has always dreamed of going to medical school and is excited at the possibility of making it another fulfilled fantasy. This is good news for anyone who will be in the market for a new doctor, but it's bad news for fans.
"I know if I get into med school I'll have to stop doing porn," she said. "I believe if you are going to go to school you have to throw yourself 100 percent into it. But it's so far in the future, we'll just have to see."