Porn Star Interviews | Sex Stories & Articles about Naughty America | Sex Stories from Members
Disabled People Have Sex Too
By Simon Rivers / Thursday, October 4, 2007
SAN DIEGO (TNA) – "Kitten," as the 36-year-old Los Angeles resident prefers to be known, remembers the day six years ago she walked into a sex store looking for a porn flick featuring someone with a physical handicap.
"They said, 'We can't have that in here, it might offend somebody!'" she said. "I was like, 'You have old people, fat people, people of different races, but this would be offensive?'"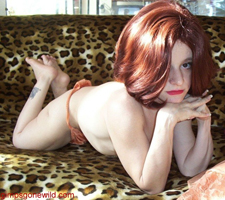 'Kitten' says her disability is no
handicap to being a sex symbol.
Kitten has a bone disease that weakens her skeleton and forces her to use a wheelchair to get around. Her exasperated sigh was audible over the phone during a recent interview with TheNaughty
american
.com.
"We're not seen as adults, we're seen as children," she said.
american culture has an easier time imagining the mentally handicapped having sex than the physically handicapped. On TV, "Chasing Amy" had an entire episode dedicated to the sex life of a developmentally delayed couple, while the movie "Rainman" hinted that Dustin Hoffman's autistic character could handle some physical affection.
But when it comes to the physically handicapped, one must search far and wide to find instances of sex.
In Robert Rodriquez's "Planet Terror," the loss of Rose MacGowan's leg is played for laughs when her character has sex.
The Tom Cruise-Oliver Stone collaboration "Born on the Fourth of July," features a scene in which Cruise, rendered a paraplegic by a Vietnam War injury, can only get laid with a hooker. In the scene, Cruise's character cries over his lost physical glory, a figure for the viewer to pity.
But Hollywood is not guiding our tastes so much as reflecting them.
In the real world, the physically handicapped do struggle against the prejudices of those around them.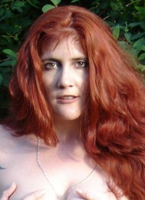 Beverly started an escort
directory catering
to the disabled.
"I have never had a date," one man who declined to provide his name to TNA wrote in an email. "Because it's hard for severely disabled guys to find someone who will date severely disabled guys."
In a sense, Oliver Stone got it right. Like anyone else looking to have sex the easy way, the physically handicapped must sometimes turn to prostitutes.
Our anonymous man above has cerebral palsy, which makes it hard for him to get around, and when he speaks he "sounds like a drunk." So, at the tender age of 15, he took the initiative and hauled himself to Tijuana, where he found a prostitute to fulfill his desires.
Since then he's used many escorts, both here and in Mexico, and his experiences have been mixed – sometimes they take his money and leave, sometimes the prostitutes are creeped out by his looks, and sometimes he gets what he paid for: a night of physical pleasure.
To help winnow the prostitute wheat from the whore chaff, he established escortsforthedisabled.com, an online directory of call girls who will work with the physically disabled.
The site has become his life's work, and he's done everything from the web design to recruiting potential employees on his own. He was just starting to make some money from it when the competition caught wind of his idea.
Beverly from Colorado is an experienced escort and a bit of an activist within her community. On the web sites and blogs dedicated to escorts and their work, she has earned a small measure of fame.
"I have a special friend who has had a stroke," she said. "He's fairly able, but he shakes, and he can't speak clearly. He meets these women online, then they meet in person, and then – oh they 'just want to be friends.'"
Beverly believes that working with the physically handicapped can teach her a lot about her own sexuality.
"I met this one man who had feeling in his one finger, and stimulating that one finger he could feel – he got tremendous pleasure out of that," she said. "For me as an enabled person, it redefined what my whole sense of sexual pleasure is."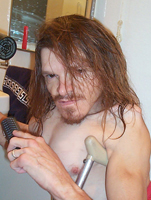 'Diablo' shows off his
sexual abilities in
porn films.
Out of compassion and business savvy, Beverly reached out to the owner of escortsforthedisabled.com in the hopes of forming a partnership.
Her experience as an escort combined with the business she'd already founded seemed like a perfect match. Instead, she says, he reacted to her participation with hostility.
In emails to TNA, the CEO of escortsforthedisabled.com has used only harsh language to describe Beverly. So she went out on her own, enlisting a friend to help her build a site she calls sugartouch.com.
Beverly carefully interviews the women she allows to advertise on her site. She doesn't want anyone who will be mean to the clients, or who will be spooked by them.
And to be clear, she says the women on her site are offering "companionship" and nothing more.
One of those women is Scarlett of San Francisco. She has a partner with a physical handicap she did not wish to specify, but who provided her with valuable experience in working with the disabled.
But she also believes that working with someone with a handicap is merely the next extension of customer service.
"I have a client who I've had from the beginning, for over three years now, who lost an arm. He didn't say anything until I got there," she said. "I needed to help him get dressed afterward, holding his underwear, help him get his leg in. It's a common courtesy; you can't leave someone stranded like that."
Helping the handicapped have a healthy sex life is part of why Beverly and Scarlett are in the business. They aren't making much money through Sugartouch.com.
Scarlett said she has one regular client she got through the website. Beverly wishes she had time to work on marketing, and says she's hoping to find volunteers to handle the email traffic and web design so she can focus on spreading the word.
Though prostitution is illegal in most of the country, the general acceptance of a prostitution underground by most of the public has engendered several vigorous opposition groups. These groups have made it a mission to campaign against the existence of prostitution, taking on the notion shared by Libertarians and libertines that it is a victimless crime.
Dr. Janice Crouse is the prostitution expert for Concerned Women of America, and she offers the physically handicapped no special dispensation.
"Handicapped people are not exempt from the 10 Commandments," she wrote in an email (the ellipses are hers). "Even handicapped men are capable of treating a woman as a sex object … Prostitution is inherently harmful to women and the demand for prostitutes fuels the $10 billion trafficking industry."
Fortunately, there are other avenues for the physically handicapped to get their jollies.
Kitten used that moment in the sex store to launch her own career of modeling naked or in sexy lingerie.
She runs a website, gimpsgonewild.com (the use of the term "gimp" ensures a steady flow of hate mail since it's considered a slur) for men and women with handicaps who want to show off their sexy bodies, whether in the buff or in skimpy togs.
One of the models is her fiancé, Kurt Levee, 47, who suffers from the same bone-weakening affliction as Kitten. Levee has actually been in porn movies.
He got his big break from a low-budget sci-fi director who put him in touch with a porn producer. He did four movies before the producer went under, but he'd love to do more.
"You know what?" he said. "I get stared at when I go in public anyway. So why not give people something to really look at?"
Beverly, the matron of Sugartouch.com, agrees it's too bad that so many people find the appearance of the physically handicapped so distracting.
"It's hard," she said," for people to see past that physical disability to the wonderful person underneath."