Porn Star Interviews | Sex Stories & Articles about Naughty America | Sex Stories from Members
Interviewing Porn Actresses Helps Woman Become One
By By Doug Sorito / Friday, July 25, 2008
LOS ANGELES (TNA) – There's no one direct path to a porn career. Different people take different routes, but one Chicago woman found that interviewing porn stars was a good way to insert herself in the business.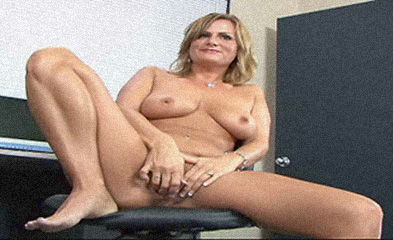 This past May, Becca Blossom was an average 34-year-old milf who nursed secret ambitions of baring it all on camera. Luckily, her side job as a correspondent for an Illinois-based public access show, Psychobabble TV, helped her dreams become reality.
"I was actually trying to get into the business for a long time and had some bad experiences," Blossom said moments after her July 25 live webcam chat with Naughty America – which was only her second porn performance ever. "I kind of tried and gave up, tried and gave up. Finally, when Naughty America came to Chicago in May, I told my fiancée, who was doing the interviews, that I wanted to talk with someone. I figured the worst they could say was no. And that's kind of how I got into it."
The Chicago party introduced Becca to actresses like Mika Tan, Abbey Brooks, Roxy Deville and Angelina Valentine as well as a Naughty America executive who was looking for new talent.
Blossom told the exec about her erotic aspiriations. "She hooked me up and here I am," she said.
The ease with how Blossom was cast was a long way from her earlier attempts at breaking into adult entertainment.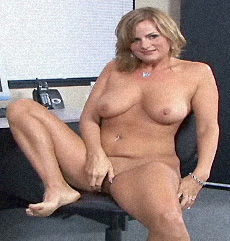 "I had problems with bad agents," she confessed. "One flew me out to Florida and supposedly had five scenes booked. I get out there and all five scenes were cancelled. Then he booked me for another scene knowing I had a C-section scar and soon as the pants came off, the photographer, who was as nice as he could be told me, 'I don't think they're going to use you.'" Another agent just jerked me around.

On July 24, Blossom filmed her first professional sex scene for My friend's Hot Mom. Although she has been an avid porn watcher for years, nothing she saw prepared her for the raunchy realities.

"Porn sex is different," Blossom said. "I'm not used to making sure I'm in a position so the camera will see everything and, you know, it's more work. However, sometimes when you're with your guy in private doing what he wants to do, it can be work too [laughs]. You know?

"You have to be more conscious of how you're moving and what position you're in. Some of the positions you see on film that look really good and exciting and like they're fun are really hard to do."

Although Blossom says there wasn't anything sexually she experienced on the porn set that she might take home to her future hubby, she did learn some other tricks of the trade.

"I didn't learn anything sexually, but as far as filming – which we've done at home – I've learned different ways to let the camera in there," she said.

***

Immediately after making this clip for Psychobabble TV, Blossom decided to go into porn.