Porn Star Interviews | Sex Stories & Articles about Naughty America | Sex Stories from Members
Lexi Belle No Longer Uses Saran Wrap Condoms
By Jay Reyes / Wednesday, May 14, 2008
LOS ANGELES (TNA) – At 20 years of age, Lexi Belle has more than two years of experience in the porn industry and now she knows what she wants when it comes to sex.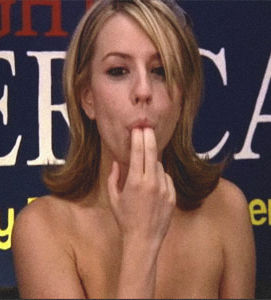 Since entering the industry, the petite Southern beauty has appeared in hundreds of scenes, and now considers herself a blowjob and footjob expert. She also has developed an affection for screwing girls and boys at the same time.
So it's hard to believe it when she says that only three years ago she knew so little about sex that she attempted to use Saran Wrap as a substitute condom when she lost her virginity.
"I was 17 years old. It was my birthday," she said during a May 14 chat with Naughty America. "Both me and my boyfriend were virgins. He was 17 too and we really had no idea what we were doing."
After several hours of dry humping and making out, Belle's boy finally pulled out his cock and started rubbing it against her pussy.
"We were like, 'Okay, we have to use protection,' because, you know, the first time you have sex you're always freaking out about protection," she said. "But we had no condoms."
That's when Belle's creative thinking kicked in and the pair decided to wrap his cock in plastic wrap, which proved less than satisfactory.
"It was not pleasant," Belle said. "It felt weird and it kept coming off really fast. We'd be fucking and we wouldn't even notice that it was off.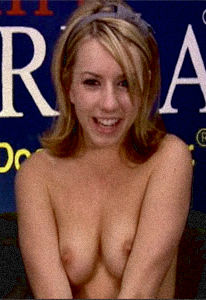 But in the throes of their first time, Belle and her boy didn't mind the discomfort, and went on to have sex seven times on her mom's bed until they finally quit because Mom was coming home.
A year later, Belle stepped into her first porn set, not much more experienced than she was when she popped her cherry. This changed rather quickly.
"My first scene ever was a boy-boy-girl scene," Belle said. "It was also my first time sucking cock. I didn't know what I was doing."
Belle admitted that she was so nervous that she could not stop giggling all through the shoot.
Since then, Belle's game has much improved. She looks back on her early days in porn and has a good laugh.
Nowadays, Belle says that, having learned a lot fast, she enjoys her job and makes enough money and has enough free time to enjoy painting, gluing things together to make disposable artwork and dancing naked at raves.