Porn Star Interviews | Sex Stories & Articles about Naughty America | Sex Stories from Members
Life In A Porn Dorm Isnt All Pillow Fights And Orgies
By Gram Ponante / Monday, March 24, 2008
WOODLAND HILLS, Calif. (TNA) -- It's 11 p.m. in the Woodland Hills section of Porn Valley, the part of Los Angeles between the Hollywood Hills and the Santa Susana Mountains, where most of the world's commercial adult videos are shot.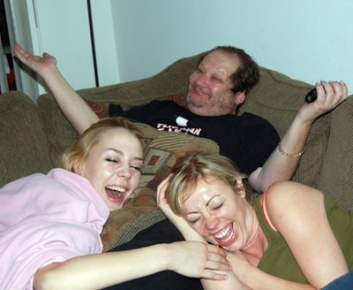 german performer Annette Schwarz, working here for the next three months, lazily pets the cat and falls asleep on the couch. She has to be up at 8 a.m. for a gang bang.
Mark Spiegler owns the couch, and his name is on the lease of the two-bedroom apartment (including one bedroom for Schwarz, if she'd just walk a few feet down the hall). Spiegler is one of a handful of booking agents for the porn industry, and he keeps a spare room available for non-locals like Schwarz and/or visiting San Franciscans like Bobbi Starr.
His agency is called Spiegler Girls, and his roster includes 20 of the porn industry's most recognized names. Besides Schwarz, whom studio Elegant Angel has honored with its "Slutwoman" series, there's "The internet's girlfriend" Dana DeArmond, Showtime's "Family Business" star Flower Tucci, and post-noir pinup Adrianna Nicole.
"I get about 175 phone calls a day," says Spiegler, who runs Spiegler Girls via a Verizon smartphone from his apartment or his Cadillac Escalade, which is about as big. "I'm on the 6,000-minute plan. My bill is about $260 a month."
Earlier in the night, Schwarz and Nicole, two leggy blonde bombshells, link arms and follow the shorter, rounder Spiegler into Alessio's, a higher-end Italian restaurant in Northridge.
It's a slow night and, because of this and the fact that Schwarz and Nicole are unmistakably dressed as porn stars in their kneesocks and midriff-baring t-shirts, the small group gets a lot of attention.
"It's good to see you again," says the waiter, who later tells them he has appeared in a Honda commercial. "We've missed you."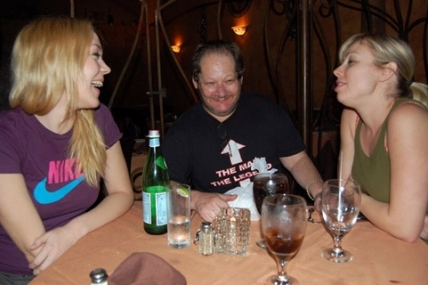 The dinner is filled with gossip and shop talk. Both Schwarz and Nicole have been with the man they call "Spieg" for three out of the four years his company has been in existence, and they affectionately kid each other.
Schwarz was referred to Spiegler by european porn legend Rocco Siffredi.
"She sent me pictures of her with a knife in her pussy," Spiegler said. "I said, 'OK…'"
"I started doing porn three days after my 18th birthday," said Schwarz who turns 24 on March 26. "I didn't know what to expect in America."
In 2006, Spiegler – whose family comes from Austria – met her at the airport and began speaking german to her.
"I didn't know what he was saying," Schwarz said. "And all the way to his place, I thought, 'Am I going to have to sleep with him every night?' I was biting my teeth together."
"Before I met him," she said, "I didn't know if part of my job would be having to sleep with him -- "
Spiegler interjects: " -- Oh, it only would have been two minutes out of your life/"
Schwarz continues: "And I asked [former Spiegler client] Katja Kassin about it my first night here, and she said 'No, it's not like in europe.'"
Spiegler books his talent, picks them up from the airport and drives them to shoots if needed, takes up to 15 percent of their earnings, but never hits on them.
"It's bad business," he said.
Before dinner, Schwarz and Nicole retreated to Schwarz's room to check the latter's Myspace messages.
"Sometimes I'm so tired at the end of the day that all I can do is check my e-mail and fall asleep," Schwarz said.
While in the United States, she usually works six days a week.
"No working every day," she said. "If you're working all the time in porn, your immune system runs down."
After her stint in the U.S., Schwarz will return to her native Munich, where she will stay with friends or rent a "student flat" as her home base to shoot movies in germany or other european porn capitals like Prague and Budapest. Then she will come back to the Spiegler dorm for another three months.
"I think I'm ready to buy a house in germany," she said, looking around Spiegler's cluttered apartment, "because I am living like a student wherever I go."
Schwarz and Spiegler clashed when she first stayed with him in 2006.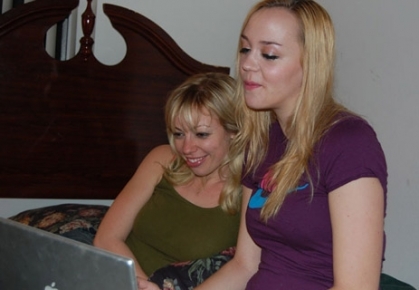 "There's a curfew rule," she said. "I didn't like that. I said, 'I am an adult and can do what I want!' But it was my first time in the United States and I wasn't thinking of it as work, which I do now."
"I have a few rules," Spiegler said. "Save your money, don't make me look bad, and don't give me anything to worry about."
Indeed, Spiegler Girls is well regarded around the porn industry as a dependable agency. There are few instances of Spiegler's talent not showing up on a set and he boasts that his clients are drug- and alcohol-free while on location.
"It's not that I get them off drugs," he said. "They were never on them. The people who work for me are pretty smart."
Spiegler is a former day trader who got into the porn trade in the mid-1990s by financing movies. He produced and directed a few, and then started Spiegler Girls in 2004. He has had as many as seven performers staying with him at a time, but on average there are only two or three.
"Which is good," Spiegler said, "otherwise they start fighting for the bathroom."
It might be tempting to call Spiegler cuddly or avuncular, and he is, indeed, a very friendly, thoughtful person. Unlike certain competitors, Spiegler is not a performer and does not "audition" his talent. But more than many in the porn business, Spiegler knows where the bodies are buried.
His phone contains names, dates, pictures, videos, social security numbers, addresses, and, in a few cases, the next of kin of many of porn's shadier personalities, but the database in his head is a little more comprehensive.
"People know not to mess with me," he says.
After dinner, the waiter boxes a slab of chocolate cake that Spiegler will put in his refrigerator. Back at the apartment, Nicole and Schwarz watch as Spiegler's trained cat, Alaska, fetches a ball of tape.
Nicole settles into the pullout couch and frets about a scene she'll be shooting the next day.
"He better have baby-wiped his ass," she says to no one in particular.
For the 20 women on Spiegler's roster ("I don't represent guys because they're too needy," he said), each will receive a call or text message the day before a shoot with the location, company, director, partner(s) and service(s) required, which will also determine her take-home pay.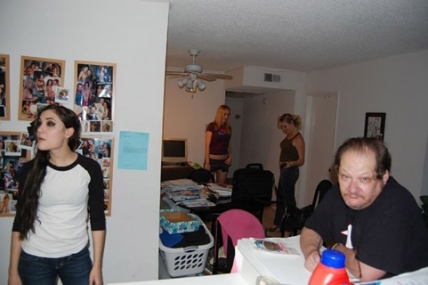 Nicole said that lately these text messages on her iPhone don't excite her.
"I get excited when there's a brand new guy," she said.
Across the room, Schwarz nods. Spiegler throws a blanket over her 5 foot 8 inch frame.
Spiegler's is neither the largest nor the smallest of the porn booking agencies. Across the Valley, Derek Hay's LA Direct models has two upscale houses for its visiting talent and lists more than 140 women and men as clients. Former performer Joel Lawrence's Goldstar models has 80 women on its books. And more and more performers are choosing to represent themselves, such as Jenny Hendrix, who just left LA Direct models, and former Spiegler client Sasha Grey.
Grey, who was named the Female Performer of the Year by the porn trade publication AVN, dropped by the Spiegler dorm the night of the dinner, and the next morning announced in AVN that she was starting her own agency to at first represent herself and then to take on a few more girls.
At a certain level of fame, female talent tends to transcend agencies.
"If I can book an anal scene for $4,000," Hendrix said when she left LA Direct, "I'm going to keep all of it."
"I've had about 100 girls come through here," Spiegler said prior to Grey's announcement. "And they work a lot, and they all make money. But sometimes they need to move on."
"But Spieg takes care of us," Nicole said.
Nicole hugs Schwarz and Spiegler and then heads home to Silver Lake, a neighborhood of Los Angeles "over the hill." Schwarz gets up from the couch and shuffles down the hall to bed.
Wait a minute -- no orgies or pillow fights? No dancing naked on the bed and singing into hairbrushes? Schwarz laughs as if this has never occurred to her.
"I work too hard for that," she says.
In the morning, Spiegler will wake her up and drive her to the gang bang. He will save a little cake for her.