Porn Star Interviews | Sex Stories & Articles about Naughty America | Sex Stories from Members
So You Want To Be A Male Porn Star
By By Gram Ponante / Monday, June 2, 2008
WOODLAND HILLS, Calif. (TNA) -- Jack Lawrence admits that he is not in the "top tier" of male porn stars, but maybe that is why he had the time to put together his comprehensive "how to" guide for prospective porn dudes, "Breaking Into Porn."
"There's maybe 300 guys working on the straight side of the adult industry," he said. "And of those guys, only about 25 work regularly, meaning that they shoot 20 or so scenes a month. Those are the Tommy Gunns, the Evan Stones and the Nick Mannings. I'm not up there yet."
Lawrence, who has been in a not-too-shabby 600 scenes since he entered porn in 2003, is also modest, and that modesty comes through in the four-disc instructional DVD "Breaking Into Porn," in which Lawrence and adult industry friends Tyler Faith, Regan Anthony, Tommy Gunn, Holly West and Marcus London break down everything an aspiring male porn actor needs to know, including driving in Los Angeles and executing a flawless anal scene.
Self-financed for $20,000, "Breaking Into Porn" is Lawrence's video training manual for prospective male performers as well as a kind of best practices guide for existing talent. Lawrence and company outline HIV testing, what to pack for porn shoots, porn performer finances, agents, personal hygiene and self-promotion.
Lawrence also does the dirty work of demonstrating proper cunnilingus, disrobing a partner ("It's not for you, it's for the camera"), and anal techniques on live porn star models. With his face at Regan Anthony's vulva, Lawrence tells the camera to "never use the same fingers for vaginal as you do for anal."
"I've learned a lot from other performers," Lawrence, 41, said. "And career longevity in this business comes down to being considerate of your scene partners and the crew."
Lawrence talked about shooting a scene in L.A.'s San Fernando Valley last July when the thermometer topped 119 degrees.
"It was the hottest day of the year and we're fucking by the pool, melting in the sun," Lawrence said. "And Evan Stone, who could have stayed inside in the air conditioning, instead cheered up the crew by putting on a fig leaf and climbing in the trees."
Lawrence calls the best male performers "gentlemen" and says that the most important thing for a male performer to do on set is to make the girl look good.
"She's getting about a grand to fuck you," he said, "so you don't have to seduce her. But you do need to ask her for her personal dos and don'ts. Don't be a jerk. Nobody likes anyone who's cocky, pardon the pun. Be clean, smell good and use breath mints."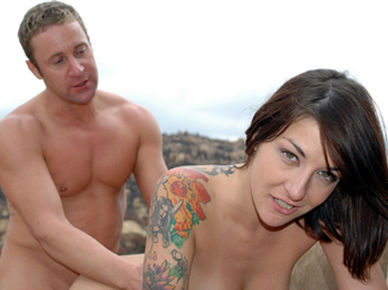 Lawrence points out that women have a much shorter shelf life in the adult industry than men, but when women are working, they are very important to a male performer's career.
"A male performer is like the assistant director in a porn movie," he said. "It is often up to him to move a girl a certain way so she's in the right light or so she's seen in the most flattering way. If she has a little belly fat, he tries to hide it. And if a girl sees you trying to make her look good, she appreciates it. And she'll tell her friends that you're a good guy to work with, and that they should request you."
Lawrence said he made "Breaking Into Porn" because he felt that he'd benefited from the advice of others and he wanted to ensure that the porn industry attracted quality people who knew what to expect.
"I want to have several more years in this business," he said, "but I also want to pass the torch to guys who are going to respect women and make the industry worth being proud of."
The first disc in the set is called The Interview, and is a loose but substantive chat between Lawrence and Boston bombshell Tyler Faith covering the things that future porn studs might not think of.
"If you grew up on a farm in Iowa," Lawrence said, "you have no concept of L.A. traffic. In fact, L.A. traffic is unlike any in the world. You're going to be spending a lot of time in your car. So get a GPS."
In the video, Lawrence then demonstrates plugging an address into a portable Global Positioning System, explaining that he has booked gigs simply for his ability to show up on time.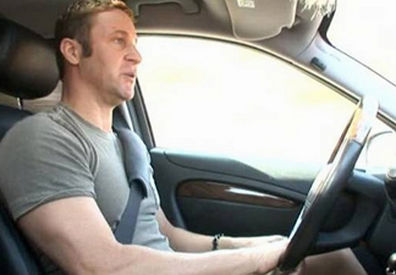 "And get an 818 area code," Lawrence said. "Producers need to know you've made a commitment to the business."
Being prepared is a big part of Lawrence's porn career philosophy. He unpacks a duffel bag of essentials and contingency items including shower flip flops ("You don't want to walk across a warehouse barefoot when there's all sorts of secretions on the floor"), extra digital video tapes for the crew, sea sponges for partners on their periods, purified drinking water ("Always stay hydrated"), and Baby Wipes ("We work with body secretions every day, but that doesn't make them any less embarrassing").
Lawrence also talks about "losing wood," or erectile failure, one of the porn industry's scariest occupational hazards.
"In my career I have had four complete failures," he said. "And of course I'm embarrassed by that. And it happens to a lot of people but it's in your interest to keep that number down, and to make absolutely sure you don't fail in your first 50 scenes when you haven't really proven yourself."
Lawrence says that the use of drugs like Viagra, Levitra, Cialis, and the hypodermically injected Caverject should be avoided if possible, though he acknowledges that a lot of talent use such performance enhancers.
"Those things are not known to be safe," he said. "They weren't made for people who would be popping them all the time."
Instead, Lawrence recommends yohimbe bark extract to increase arousal, zinc ("for popshots"), and lots of exercise.
A former pro cyclist, Lawrence is a strong advocate of "good cardio."
"I feel better now than I did when I was 20 now that I'm back on my bike," he said, and in the video recommended doing several squats prior to a scene to stimulate testosterone production.
All this extra work is needed because, as Lawrence says point blank: "Nobody's sympathetic to a soft dick."
The location has been rented, the crew and other performers have been contracted and "thousands of dollars are riding on your dick working."
Lawrence related some good advice Nick Manning gave him about curtailing premature ejaculation, another porn industry (and real life) faux pas.
"He said to fuck until you lose your breath," Lawrence said. "It keeps you from coming too soon."
Lawrence also relays tips like counting backwards and doing math problems to curb one's enthusiasm.
Lawrence and friends stress how difficult the porn industry can be, saying that an adult career is not for the weak.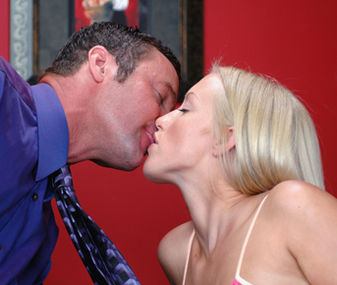 "Breathing Los Angeles air takes four or five years off your life," he says in the video.
And he talks about the stigma of a porn career haunting later work.
"Every year you're doing porn you're not learning about another career," he says. "And when you get out of porn, you're going to be that many years behind everyone else."
In fact, 22 minutes into the first disc, Lawrence says, "Go back to college and get a career.
"Don't get me wrong; this job can be a lot of fun," Lawrence says. "But people have to remember that it is a job, and it's slow going sometimes."
Lawrence points to the HIV scare in the San Fernando Valley adult business in 2004.
"People were out of work for two months," he said. "If you don't have a couple months of funds in the bank, you're screwed if something like that happens again or if it's just a slowdown."
In his banter with Tyler Faith, Lawrence says the most important thing for porn dudes to do is to "treat the woman like a lady."
"Otherwise," Faith says, "McDonald's is always hiring."