Porn Star Interviews | Sex Stories & Articles about Naughty America | Sex Stories from Members
Superheroines Super Sexy To Fetishists
By David Gibb / Thursday, September 27, 2007
TORONTO (TNA) – For many men, the thought of forcing an ultra-powerful woman to her knees and stripping her of her clothes, powers and dignity stirs desires rooted deep in our boyhood fantasies.
Batgirl, played by Yvonne Craig on the 1960s "Batman" series, often found herself in perilous straits, much to the delight of male viewers. With her perfectly tailored purple spandex costume hugging full breasts and enveloping long dancer's legs, the heroine's fans undoubtedly had more on their minds than rescuing the struggling beauty from her shackles and ties.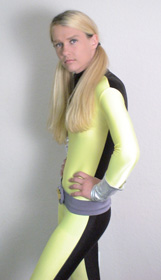 Some fetishists get
super horny around
superheroines like
Starburst.
While TV's capture-prone Batgirl inspired many a bondage fantasy, she was in good company. Lynda
car
ter's buxom Wonder Woman of the 1970s fought evil-doers while wearing an exceedingly skimpy outfit, with a top that constantly threatened to bounce right off.
She was also routinely captured and put into situations where her seemingly asexual captors could grope and disrobe her at will.
Not only that, but she had dominatrix tendencies, subduing physically superior men and emasculating them with a truth-eliciting "magic lasso." In fact, the only way she could lose her powers was to have her hands bound by a man.
Long before their TV incarnations, and since the early days of comics, however, superheroines had teased the hormones of adolescent boys with racy images of their bondage and submission.
It's no wonder so many of these boys grew up into men with full-blown superheroine fetishes.
"As far as what planted the seed, I know exactly," confesses Vladi, 46, of Yakima, Wash. "It was a 1972 DC comic book in which Supergirl was trapped and knocked out with kryptonite, and then tormented while bound with kryptonite rope.
"I was at the neighborhood drugstore and stood just rapt while flipping through the comic," he adds. "I was a bit confused and a little scared by what it was doing to me, making me feel an excitement that I had never felt before. I peddled furiously home on my bike, and dashed to my room to lie on my bed and slowly absorb the comic one panel at a time. Quite the 'adventure' for an 11-year-old boy, I assure you!"
He is now known as Vladi the Wizard on "The Wizard's Lair," a free site sponsored by Super Heroine Central (www.superheroinecentral.com). Here, aficionados of superheroines in peril can enjoy an abundance of professional and amateur artwork, role-play scripts and fan fiction, all with a single click of the mouse. The site claims to have plenty of female members, too.
Vladi engages in online superheroine role-play, as well as bondage play with his real-life partners.
"The actual binding and the reactions that I get excite me – the writhing and the moaning, the struggles and the groans," he says.
Vladi, however, is one of the lucky ones. Most superheroine fetishists enjoy their erotica alone, either unable to find an open-minded role-play partner or simply too embarrassed to reveal what many feel are adolescent desires.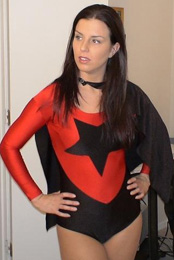 No word if Flashpoint has
a brother named Powerpoint.
Some manage to get by just from viewing erotic art of superheroines in peril.
David Hughett, 46, of Nashville, confesses he has never had conventional sex. He had a strict religious upbringing and considers himself an introvert. His sexual desires are fulfilled simply through commissioning and collecting custom comic art pieces depicting superheroines being knocked out or otherwise defeated.
"The unconscious superheroine likely represents my struggle to satisfy my sexual needs in a safe, non-threatening way," Hughett explains. "She cannot criticize or demand anything from me!"
Hughett has even created his own superheroine, "Panther Girl," and has paid various professional comic artists from $15 to $500 to draw her, as well as others, such as Wonder Woman, getting captured, knocked out and beaten. Not all of his requests are readily accepted, however. He was once scolded by an artist who called him a pervert and a menace to society.
Hughett's favorite Web site is Heroines in Peril Comics (HIPComix.com), which specializes in erotic superheroine comic art.
HIPComix.com keeps a staff of eight artists and two writers, and maintains an extensive free area of comic art and 3D CGI renditions. According to the site's promotion manager, "Dr. Robo," 31, from New York, it has a few hundred paying members.
"Sometimes the heroines win out in the end, sometimes they don't. We like to keep our readers guessing," he says with a chuckle.
For many, the superheroine fixation is simply an extension of other sexual interests, which may include bondage and discipline, domination and submission, clothing fetishes (such as spandex, pantyhose, leotards, boots and masks), knockout and sleeping fantasies, and abuse and rape, among others.
"Superheroine fantasies involve overcoming the massive power and resistance of the super-powerful female and constraining it through bondage and control," says Katharine Gates, author of "Deviant Desires: Incredibly Strange Sex" (Juno Books).
"There's very little difference between these fantasies and any fantasy of male dominance and female submission – they're just dressed up in pop culture clothing," she adds. "The fact that the woman is imagined as a superheroine is a way of upping the ante by exaggerating the drama of the power reversal."
Fantasies of power reversal are also often rooted in childhood experiences.
Alexander, 32, of Toronto, for example, was disciplined by an overbearing aunt and physically abused by his mother when he was a youth.
"I spent a lot of my childhood and teens being forced to do as they demanded and was frequently physically punished for minor infractions in painful and humiliating ways," he says.
After reaching physical dominance at the age of 15, Alexander turned on his mother and told her to never lay her hands on him again. She backed down.
"Aha! I had power over powerful women!" Alexander explains. "In my fantasies I could now dominate powerful women, undress them and have sex with them."
These thoughts and desires later converged with his erotic desires for TV's Wonder Woman, and another fetishist was born.
"If a young boy grew up with a powerful, strong mother who criticized him, tried to emasculate him, and was sexually inappropriate, this may play out in the male's fantasies," says Marilyn Volker, a Diplomate of the american Board of Sexology and host of "Sex with Marilyn," a radio show on Sirius channel 114.
But not all men want to mercilessly dominate our sexy heroines. Some are willing victims.
Like Mike Alvares, 27, of San Jose, Calif., who became a pantyhose fetishist from watching reruns of "Wonder Woman" during his childhood in the '80s. "Because they have god-like powers and nothing can harm them, I'd prefer to have them take advantage of me. It turns me on to see females with that kind of strength."
"Some of the best-looking superheroine models can be found online," says Alvares, who gets excited watching leotard-clad beauties duel on his computer screen, and dreams of begging for their mercy.
For those who crave more than comics and art, many sites compete in providing live-action video footage and photographs of daring damsels being beaten and bound.
Jeanne Basone, also known as "Hollywood" to fans of the female professional wrestling troupe Gorgeous Ladies of Wrestling (GLOW), runs www.webkitten.com, a site catering to superheroine and female-wrestling fetishists. She produces live videos of characters named "Wonder Womyn," "The Golden Avenger" and "Super Jeanne."
Basone's initial foray into the niche was rather accidental. "A Web-site customer e-mailed me one day and asked if I would wear the Wonder Womyn (a name she changed to avoid copyright issues) costume," she explains.
"He wrote a script, which I produced and starred in, and bam! The superheroine-themed videos started selling better and faster than any of the wrestling DVDs I had previously produced. Today, they are my No. 1 seller."
Basone now makes in excess of $100,000 a year from her online adventures, and she's not alone. Several other sites are now discovering and cashing in on this largely undiscovered niche.
Even mainstream comics legend and artist extraordinaire George Perez, 53, has decided to write, storyboard and direct live-action superheroine videos. Having worked for both DC and Marvel comics for the past 25 years, Perez has penciled and inked many legendary characters.
As creator of the "Sisterhood of Superheroines" (www.sisterhoodofsuperheroines.com), he now produces these erotic adventure movies for DT Productions. SOS involves a team of sexy, costumed beauties who battle to save the world from diabolical villains. While there is some nudity and groping, the content is relatively tame.
"We produce slightly clean, dirty fun, and the reaction has been very positive," Perez says.
Kobe Lee, an actress and model with a devoted fan base, also does only limited nudity and kissing scenes. Now 27, she has starred in custom videos since 2003 and is regularly featured on such sites as metrocityheroines.com and hypnoticsworld.com. Her original characters include Flashpoint, Blue Angel and Super Woman.
Sometimes the requests for custom videos can get a little strange.
"One time I was 'Chlorofoot,' and knocked out girls by shooting chloroform from my foot … Very fun!" says Kobe, who charges $75 to $120 per hour for her services.
So do these guys need professional help?
"The whole point of fantasy is that it is just that – fantasy. I suspect that very few people with these fantasies have any intention of acting upon them," Gates says. "Of course, I see absolutely no problem with real-life role-play as long as it is safe, sane and consensual.
"The people who might consider counseling are those who are wracked with guilt," she adds, "or who wish to gain some measure of control over fantasies if they interfere with ordinary life or relationships."
But as far as Vladi, David, Alexander and Mike are concerned, it's all in good fun.
"We simply get off fantasizing about doing what the bad guys never got to do: Pull down that damn top, ogle, fondle, strip and finally ravish those sexy vixens," Alexander says.
It's comforting to know that Batgirl's fate is in such capable hands. The Legion of Doom would be most proud.