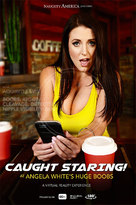 Site: Naughty America
Dec 16, 2016
Angela White needs a place to sit at the coffee shop after ordering her double espresso, and you just happen to have an extra seat at your table. When she sits down, you can't help but notice her big tits busting out of her dress! You're so obvious, Angela catches you lusting after her cleavage, and decides to take you outside for a scolding. And after labeling you a pervert, the sexy Aussie is so turned on herself that she grabs your dick, and pulls you back to her place for a night of fucking!
Angela White & Johnny Castle in Dirty Wives Club
What's better than your buddy lending you his house and his gym inside his house for the week? Lending you his hot, Aussie wife, t...
Who: Australian, Friend's Wife
Where: Couch, Kitchen, Kitchen counter, Living room
Categories: Ass licking, Ball licking, Big Natural Tits, Big Tits, Blow Job, Blue Eyes, Brunette, Bubble Butt, Caucasian, Cum on Tits, Deepthroating, Feel Me, Foot Fetish, Foreign Accent, Hand Job, High Heels, Innie Pussy, Lingerie, Medium Ass, Natural Tits, Pearl Necklace, Shaved, Stockings, Straight, Swallowing, Titty Fucking
Released: Mar 9, 2017
Angela White & Johnny Castle in My Friend's Hot Girl
Angela White and her boyfriend have been staying at Johnny's place while her boyfriend is in between jobs. Johnny confesses that...
Who: Friend's Girlfriend
Categories: Anal, Ass licking, Big Natural Tits, Big Tits, Blow Job, Blue Eyes, Brunette, Cum on Tits, Foreign Accent, Natural Tits, Shaved
Released: Jan 12, 2017
Angela White & Sheridan Love & Chad White in My Wife's Hot Friend
Angela feels bad that Sheridan broke up with her boyfriend and has no one to be with for the holiday's. She gets her a present th...
Who: Australian, Family Friend, Friend, MILF, Neighbor, Wife, Wife's Friend
Where: Couch, Living room
Categories: American, Ass licking, Ass smacking, Ball licking, BGG, Big Ass, Big Dick, Big Fake Tits, Big Natural Tits, Big Tits, Black Hair, Blow Job, Blue Eyes, Brown Eyes, Caucasian, Cum in Mouth, Curvy, Curvy Woman, Fake Tits, Foreign Accent, Full Women, GG, Girl on Girl, Hand Job, High Heels, Innie Pussy, Lingerie, Mature, MILFs, Natural Tits, Piercings, Shaved, Squirting, Swallowing, Tattoos, Titty Fucking, Voluptuous
Released: Dec 25, 2016