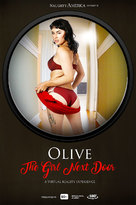 Site: Naughty America
Dec 12, 2016
Olive is new to the neighborhood and comes knocking on your door asking if she can borrow a few ingredients to make her famous chicken salad. Being the generous neighbor that you are, you let her borrow whatever she wants. Olive is so thankful for your kindness that she decides to ride your dick until you cum.
More porn videos with Olive
Olive & Johnny Castle in Dirty Wives Club
Olive's husband is out of town so that means she gets to have a friend over. She chooses Johnny to stop by and have his way with...
Who: Bad Girl, Friend's Wife
Where: Table
Categories: American, Black Hair, Blow Job, Bubble Butt, Caucasian, Facial, Lingerie, Medium Natural Tits, Medium Tits, Natural Tits, Shaved, Stockings, Tattoos
Released: Jan 17, 2017
Olive & Johnny Castle in Naughty Office
Johnny goes undercover to see if his employee, Olive, is making sexual advances. He finds out that she is, and he gets fucked.
Categories: American, Ass licking, Ass smacking, Black Hair, Blow Job, Bubble Butt, Caucasian, Cum in Mouth, Deepthroating, Facial, Innie Pussy, Lingerie, Medium Natural Tits, Medium Tits, Natural Tits, Shaved, Stockings, Tattoos
Released: Oct 13, 2016