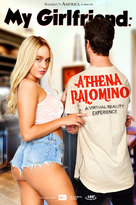 Written by:
Naughty America
Site: Naughty America
Apr 13, 2018
Hotels make your girlfriend Athena Palomino horny, but you already knew that. In fact, it's exactly what you were thinking when you booked this place. Sure, it's a nice place and you'll enjoy some time away from it all with your honey, but what you really saw was your dick in her mouth and her hot wet pussy. And why wouldn't you? With a hot, busty gf like that, we'd think you'd be booking hotels all the time! And now that Naughty America VR puts you inside the hotel, it's time to get inside Athena. But hold on: your woman wants to take care of you first. Listen to the clinking ice from the drinks she's made you both, and then feel her warmth as she nuzzles up to your cock before pulling it out and swallowing. And like she says, she knows you like it messy, and that's exactly the kind of blowjob she's going to give you – wet, sloppy, full of spit and fun. Experience her fat ass riding up and down on your hard cock, her big tits bouncing, the two of you in utter bliss during your getaway. She's so horny she strokes your dick with her feet – you have it so good! Explode in ecstasy all over her, only to do it again and again and again!
Athena Palomino & Dylan Snow in Naughty America
When Athena Palomino tells you to give her your cum, you had better listen! It's all part of your experience with a pornstar today...
Who: Porn Star
Categories: American, Athletic Body, Big Dick, Big Fake Tits, Big Tits, Blonde, Blow Job, Blue Eyes, Bubble Butt, Caucasian, Cum on pussy, Curvy, Curvy Woman, Innie Pussy, Lingerie, POV, Shaved, Stockings, Virtual Reality, VR Porn
Released: Apr 25, 2018
Athena Palomino & Bambino in Naughty America
It's always been there, dangling, hanging in front of you like a wet towel, and all you've ever wanted to do was reach out and sna...
Who: Bad Girl, Wife's Friend
Categories: American, Ass smacking, Ball licking, Big Dick, Big Fake Tits, Big Tits, Blonde, Blow Job, Blue Eyes, Caucasian, Cum in Mouth, Curvy, Curvy Woman, Deepthroating, Facial, Fake Tits, Foot Fetish, Hairy bush, Hand Job, High Heels, Masturbation, Outie Pussy, POV, Straight, Swallowing, Tattoos, Titty Fucking, Trimmed, Virtual Reality, Voluptuous, VR Porn, Young
Released: Mar 14, 2018
Ariana Marie & Athena Palomino & Riley Reyes & Justin Hunt in Naughty America
Happy New Year's Eve from Naughty America! Tonight, you're at the party of all parties. There's a secret Penthouse Soiree you didn...
Who: Bad Girl
Where: Bathroom, Hallway, Living room, Ottoman
Categories: American, Ass smacking, Athletic Body, Big Ass, Big Tits, Blonde, Blow Job, Blue Eyes, Brown Eyes, Brunette, Bubble Butt, Caucasian, Cum in Mouth, Four or more, Foursome, Innie Pussy, Medium Ass, Medium Natural Tits, Medium Tits, Natural Tits, Petite, POV, Shaved, Small Ass, Small Natural Tits, Small Tits, Tattoos, Titty Fucking, Trimmed, Virtual Reality, VR Porn
Released: Dec 31, 2017